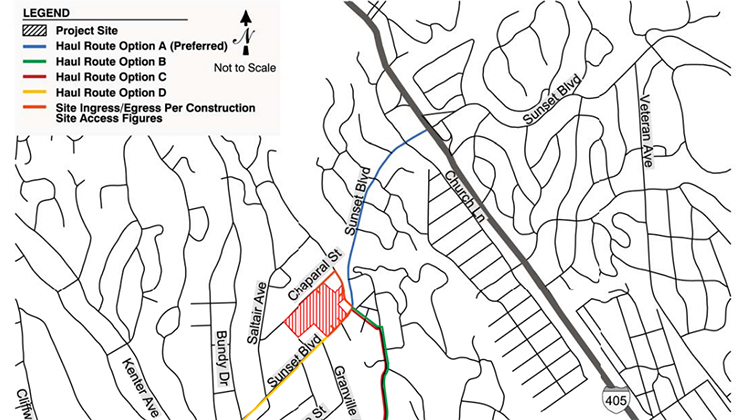 One major impact of the Archer project will be the more than 100,000 construction vehicle round trips during the now-condensed 36-month construction phase. Each of these vehicles, including over 1,000 double-trailer haul trucks and hundreds of large cement trucks, will be using Sunset Boulevard both to arrive and depart the project site, and will therefore need to transit the very congested intersection at Barrington twice.
These massive flows, and Archer's use of flagmen, is likely to extend trip times significantly for all who use Sunset to reach the 405 Freeway and points east during the daytime and evenings, including the thousands of commuters who also use Sunset in the morning to reach their worksites in the Palisades and Santa Monica, for 36 months or more.
Trip times for over 50,000 residents west of the 405 who use Sunset to travel eastbound, as well as thousands of commuters who use Sunset, will be lengthened both in the morning and afternoon periods. In addition, the current hours of heavy congestion will be extended by reason of Archer's plan to concentrate the arrival and departure of construction vehicles in the hours prior to the current peak hours.
Emissions from these construction vehicles, as well as the now-compressed schedule of demolition, excavation, and construction activities on the Archer site, will impact air quality and related health risks, as Archer has conceded.
In addition, such a massive construction project (the largest on Sunset Boulevard between West Hollywood and Pacific Coast Highway in over 100 years, since the completion of the Beverly Hills Hotel in 1912) will create noise, dust, vibration, and other impacts for the nearby neighbors.
Further, after the construction phase, the heavily-increased schedule of athletic and cultural activities on the Archer property will result in extensive noise impacts for over 200 immediately adjacent residents, as well as inevitably increasing traffic on the local streets, both in arriving and departing, in some cases during the hours of already heavy congestion.